Your Local Mansfield Electrical Service Company
The electrical system in a home is a complex network of wires and components that power everything from lights and appliances to HVAC systems. While most homeowners never give their electric system a second thought, it's important to remember that it needs regular maintenance and repairs like any other part of the house. Electricians are trained to identify and fix common problems like broken wires, failed outlets, and short circuits. In addition, they can also help to prevent more severe issues, such as fires caused by electrical problems. Keeping your electrical system in good repair can help keep your family safe and avoid costly repairs.
Powering Up Your Peace of Mind: Electrical Services in Mansfield, TX
Imagine a world without electricity. It's almost impossible, right? We rely on electricity for nearly every aspect of our lives, from lighting our homes to running our businesses. But what happens when the lights flicker, or the outlets stop working? That's where Mansfield's trusted electrical experts come in. We're here to ensure your lights stay on and your electrical systems run smoothly, providing peace of mind.
Our professionals at Mansfield Plumbing, Electrical, Heating & Air are always ready to help with any electrical repair or maintenance needs. Our wide range of professional services include:
Bathrooms
Your bathroom is one of the most essential rooms in your home, so it's important to keep it in good working order. Our electricians can handle any bathroom electrical repair or maintenance job, from fixing leaks to replacing light fixtures.
Additions
Adding new appliances can make your home more comfortable and efficient but also strain your electrical system. If you're planning any significant additions, having a local electrician check your system is a good idea to make sure it can handle the additional load. They can also install new electrical appliances, such as electrical outlets and switches, to accommodate your new appliances.
Ceiling Fans
Ceiling fans are a great way to keep your home cool in the summer, but can also be a significant source of electrical problems. Over time, the blades can come loose, and the wiring can become frayed, leading to short circuits and other issues. An electrician in Mansfield can inspect your ceiling fan and make any necessary repairs to keep it running safely.
GFCI Outlets
GFCIs, or ground fault circuit interrupters, are electrical outlets designed to prevent injuries from electrical shocks. They work by quickly shutting off the power to an outlet when they detect a current loss. GFCIs are required by law in many areas and are a good idea even if they're not needed in your area. Electricians can install GFCIs in your home to help keep you safe from electrical shocks.
LED Can Lights and Landscape Lighting
LED can lights are a type of lighting fixture that is becoming increasingly popular in homes. They are more energy-efficient than traditional light bulbs, and they last longer as well. However, if installed improperly, they can overheat and cause fires. Our electricians can install LED can lights in your home safely and adequately.
Meter Base
The meter base is the main electrical panel for your home. It's where the power company hooks up to your home, and it's also where your home's wiring connects to the utility lines. The meter base can be a source of electrical problems, so it's essential to have it checked regularly by an electrician.
Interior Lighting
Lighting is an integral part of any home and can also be a significant source of problems. From broken light fixtures to faulty wiring, our electricians can handle any interior lighting repair or maintenance job.
Outlets
Over time, outlets can become loose, causing sparks and fires. In addition, outlets can also become overloaded, which can lead to short circuits. Electricians can inspect your outlets and make necessary repairs to keep them safe.
Panel Changes
The electrical panel is the main distribution point for your home's electrical system. If your panel is outdated or not working correctly, it can be a major source of problems. Electricians like us can upgrade your panel to a newer model or make repairs to keep it working correctly.
Smoke Detectors
Smoke detectors are a vital part of any home safety system. They can detect fires before they start, and they can save lives. Our professional electrician installing smoke detectors in your home can help keep you and your family safe.
Outdoor Lighting
Outdoor lighting can enhance the look of your home and provide security, but it might need repairs from time to time. We can handle any repair or maintenance job, from replacing light bulbs to fixing the wiring.
Ring Doorbell
Electricians are not only experts in electrical repairs, but they can also install new devices, such as the Ring doorbell. This smart home device lets you see who is at your door from anywhere in the world. Electricians can install the Ring doorbell for you so you can keep an eye on your home no matter where you are.
Bath Fans
Bath fans are a great way to keep your bathroom free of moisture, but over time, the blades can come loose, and the wiring can become frayed, leading to short circuits and other issues. Our electrician can inspect your bath fan and make any necessary repairs to keep it running safely.
When you choose a professional for your issues, you can be assured that your home is in good hands. Our certified electrician is trained and licensed to work with electricity, and they have the knowledge and experience to handle any repair or maintenance job you need.
Mansfield Plumbing, Electrical, Heating & Air Can Take Care of All Your Electrical Needs
Picture this: You're in the middle of preparing a family dinner when suddenly, the lights go out. It's not just an inconvenience; it disrupts your daily life. You might attempt a DIY fix, but without the proper knowledge, you risk further damage or electrical hazards. Who can you trust to resolve these problems promptly and professionally in Mansfield?
From repairs to electrical installations, our team of licensed electricians in Mansfield can handle any job you need. When it comes to your home's electrical needs, you want to ensure that only a licensed electrician will lay hands on your property. And we understand that!
Our Process:
Diagnosis: We start by thoroughly diagnosing the issue. Our experienced Mansfield electricians will pinpoint the root cause of your electrical problem.
Expert Repair: Once identified, we proceed with expert repairs. We use the latest technology and follow industry best practices to ensure a reliable and lasting fix.
Preventive Maintenance: Beyond repairs, we offer preventative maintenance services. Regular check-ups can prevent potential issues, saving you time and money in the long run.
Safety First: Your safety is our top priority. We adhere to strict safety standards to protect you, your family, and your property.
Lighting Up Your World: Your Local Electrician for Residential and Commercial Electrical Repair Services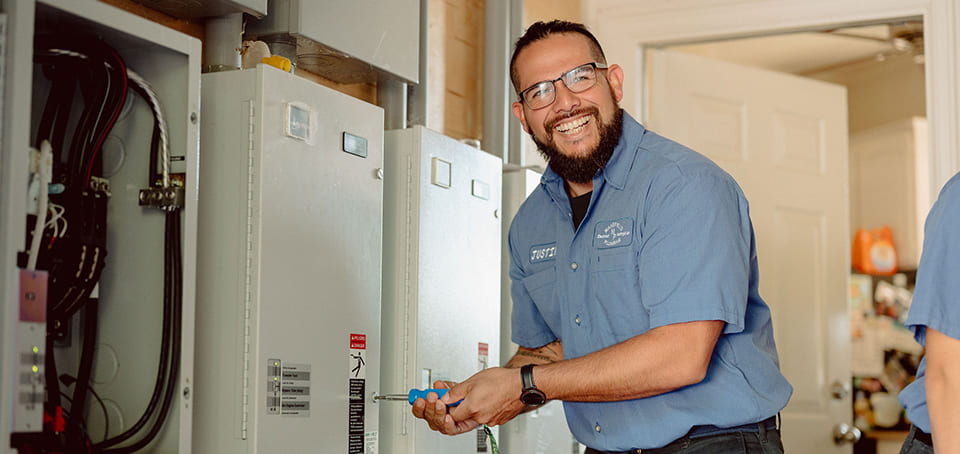 When it comes to electrical service, there's no room for compromise. Whether you're a homeowner or a business owner, your electrical systems play a crucial role in your daily life. But what do you do when electrical issues strike? Easy! Call us! We are your one-stop solution for electrical repair services, lighting installation, and more.
At Mansfield Plumbing, Electrical, Heating & Air, our electrician team is licensed and insured, so you can rest assured that your home is in good hands, whatever the professional service you request. We're here to help with all your electrical needs, from repairs to installations. Call us today at (817) 823-7239 to get started.